Published in the Holiday 2014 issue of Love of Crochet Magazine!
We are thrilled to have several patterns in the Holiday issue of Love of Crochet magazine. It should be in stores soon.
Designs include:
cute holiday cards,
warm winter accessories and
fun gift ideas.
We used several several different types of yarn in our designs including, wool, fur, thread, and acrylic.
Check out the designs in the issue:
Twirling Tidings
by Dana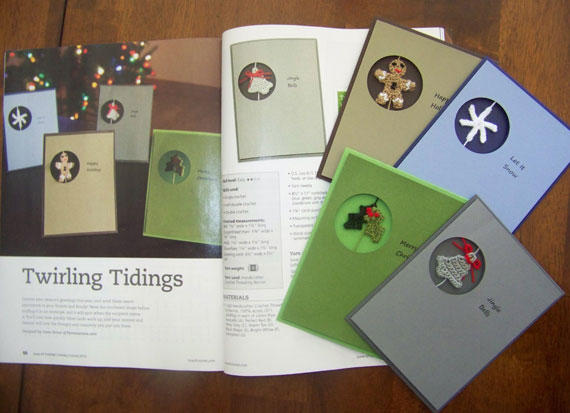 If you really want to impress your friends and family this holiday season, crochet your Seasons Greetings! Shh…don't tell, but these appliques are quick and easy to whip up. In just a few short rows, you have a cute holiday design.
Which is your favorite? The snowflake was the very first greeting card I, Dana, designed. The bell is distinguished looking. The gingerbread man is just plain fun. But I think the holly is my favorite because of my love of the great outdoors.
Yarn: Bernat Handicrafter Thread
Houndstooth Trio
by Deborah
This elegant winter set features a stunning combination of houndstooth print with wool and fun fur yarn.  The houndstooth design is easier to crochet than you might think with the use of the spike stitch.
The muff is reversible since it's fully lined. The hat and cowl use fur just on the edge so they aren't overwhelmingly hot (though if you live in a really cold local, you could line them both).
Fur yarn can be tricky to work with since it covers up your stitches, but I think you'll agree, it's totally worth it. The fur looks and feels super soft and warm.
Yarn: Trendsetter Merino 8 and La Furla
Panda Party Set
by Deborah
Pandas are beary cute! This is a delightful set for baby and sibling.
Baby will look adorable in the panda hat and pants. The face on the hat is dreamy and the tail on the bum will make you smile.
Big brother or sister will love the bean bag chair. It's fun to run and jump on. This is another cozy that wraps around a 21″ bean bag chair. The panda is holding a delicious piece of bamboo to munch on.
The baby blanket features tall pieces of bamboo and the Chinese character for bamboo. The black and white background really make the Chinese features pop.
Baby will also enjoy playing with the cute miniature panda, too. It's shaped like a Russian doll.
Yarn: Vanna's Choice
Two Wordy – Tile Bag
by Dana
This game bag has been specifically designed for the beginner crocheter. It's a rectangle sewn up into a bag. It's quick and easy.
It's a great gift idea for kids of all ages. I, Dana, designed this for my father-in-law. He and I love playing word games!
Set the timer for two minutes and see who can come up with the most words / points on their own criss-crossed word board.
Yarn: Premier Ever Soft
Wishing you a fun hand-crocheted holiday this year!
Enjoy.