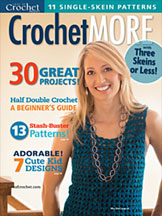 Published in Love of Crochet – Crochet More 2014
Love of Crochet magazine has a summer issue called Crochet More where every project in the issue uses 3 skeins of yarn or less. We have several fun items published in this special issue.
This is also the first time we've written an article for a publication. I say we, but it was all Deborah. She highlights the half double crochet (hdc) stitch and the myriad of textures that can be created with that stitch. My personal favorite is the hdc in the round in the back bar.
Spinner Greeting Cards
Send smiles across the miles with some fun spinner cards.
Here, I (Dana) have combined my old love of paper crafting with my new love of crochet and created some fun peek-a-boo greeting cards. If you spin the crocheted element before stuffing in an envelope, they will spin when the recipient opens them!
There is a star, heart and moon applique. The simple design of the card really lets the crocheted pieces shine! This is a fabulous project for your scraps of crochet thread.
Cute and Classic Clutch – Heart in Granny Square
The heart in this granny square makes this a clutch you're going to love to use. It's the perfect size for storing crochet hooks and tools. Deborah added magnetic snaps to the corners of her bag and uses this bag to store her crochet hooks, scissors and sewing needles.
This is a great stash buster project. It looks fun in mono-chromatic color schemes as well as vivid rainbow colors.
HDC Sampler Bag
This bag is actually a half double crochet (hdc) stitch sampler! Each section is crocheted with a different technique to create a different texture only using the hdc stitch.
Techniques include: crocheting in the round; crocheting in both loops, back loop, and front loop; crocheting in back bar from the front and from the back.
Crocheting in the back bar is sometimes referred to as the 3rd loop or camel crochet (often created using a single crochet).
Deborah crocheted several swatches that showcase the different textures that can be created using just the hdc. The different textures are created by crocheting in rows vs rounds and by inserting your hook in different places on the stitch. It's a great tutorial.