Party Mix Recipe and Crochet Football Jar Cozy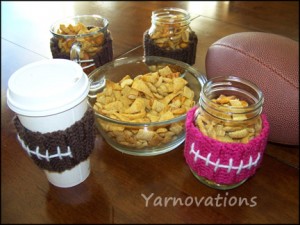 The party mix recipe is a staple during American football season. And we're jazzing it up with a fun jar cozy! We've tweaked the recipe to add some of our favorite ingredients. Here's our take on the original.
While this delicious party mix is cooling…whip up a cozy or two. They are super fast and fun!
Party Mix Recipe
INGREDIENTS:
6 cups Rice Chex
3 cups Bugels
1 cup cashew halves
1 cup Goldfish pretzels
1 cup Three Cheese Snyder Nibblers
6 Tablespoons butter
¼ cup Worcestershire sauce
1 Tablespoon seasoned salt
1 ½ teaspoon garlic powder
1 teaspoon onion powder
1 teaspoon cajun seasoning
DIRECTIONS: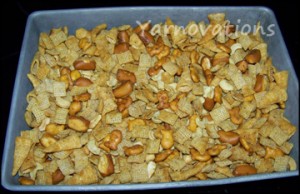 In large bowl, mix together the Rice Chex, Bugels, cashews, pretzels and Nibblers. Set aside.
Melt butter. Add Worcestershire sauce, seasoned salt, garlic powder, onion powder and cajun seasoning. Pour over cereal mixture. Stir until evenly coated. Spread in 9×13 pan
Heat oven to 250°. Bake Party Mix for 45-60 minutes stirring every 15 minutes. Cool on paper towel. Store in an air tight container like pint sized canning jars!
Crochet Football Jar Cozy for Party Mix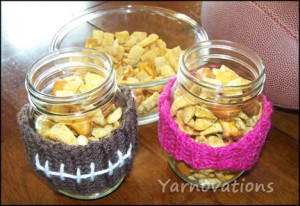 This crochet footall cozy fits a pint size canning jar…making it a great gift idea or fun home décor item for your next football party! Fill the jar with your favorite party mix and get into the game.
Crochet a brown cozy to represent an NFL football. Add white stripes to represent college and high school football. Crochet in pink for a feminine touch or to celebrate Breast Cancer Awareness month in October.
This is a great stash buster…pictured is Vanna's Choice (a soft and vibrant yarn). I'm particularly fond of the Raspberry football cozy! =)
The cozy tapers in the back to give the cozy a football like shape.
Supplies:
1 pint size canning jar
Vanna's Choice Yarn: Medium Worsted Weight (4)
CHOCOLATE (RASPEBERRY – optional), WHITE
Crochet Hook: H
Yarn Needle
Instructions:
Chocolate (or Raspberry)
Note: Footballs used by the National League do not have white stripes. College and high footballs have white stripes. Use White for Rows 8 and 21 if you want stripes.
Ch 5
Row 1: Sc in 2nd ch from hook. Sc across. (4)
Row 2: Working in the back loops now and throughout: Ch 1, turn. Sc inc. Sc across. (5)
Row 3: Ch 1, turn. Sc inc. Sc across. (6)
Row 4: Ch 1, turn. Sc inc. Sc across. (7)
Row 5: Ch 1, turn. Sc inc. Sc across. (8)
Row 6: Ch 1, turn. Sc inc. Sc across. (9)
Row 7: Ch 1, turn. Sc inc. Sc across. (10)
Row 8-21: Ch 2, turn. Hdc across. (10)
Row 22: Ch 1, turn. Sc dec. Sc across. (9)
Row 23: Ch 1, turn. Sc dec. Sc across. (8)
Row 24: Ch 1, turn. Sc dec. Sc across. (7)
Row 25: Ch 1, turn. Sc dec. Sc across. (6)
Row 26: Ch 1, turn. Sc dec. Sc across. (5)
Row 27: Ch 1, turn. Sc dec,sc across. (4)
Row 28: Ch 1, turn. Sc across. (4)
Finish off leaving a long tail for sewing.
ASSEMBLY INSTRUCTIONS
1. With White yarn, embroider football threads to the peaks and valleys of Rows 11-18. There are 8 short vertical stitches that cross one long horizontal stitch down the center. Weave in ends.
2. Join foundation ch with Row 28 with a whip st. Weave in ends.
More Cozies in Store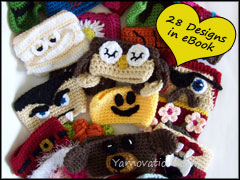 Love this football cozy? There are more seasonal, holiday and just for fun cozies in the store in our Crochet Cup Cozy eBook. We've created an entire collection with 28 designs one ebook.
Looking for the cup and mug version? They're in the ebook.
Each design in the ebook has instructions to fit Mugs, Cups and Mason Jars. Every design has a delicious recipe or fun craft.
All 3 footballs pictured at the beginning of this post are in this ebook! AND the ebook includes 4 new designs – Dracula, Vampire, Mummy and Blue Jeans.

Read more about the set:
Blog: Coffee Cup Cozy Collection
Store: Coffee Cup Cozy Collection