What can you make with only 8 yards of yarn?
8 yards is not a lot of yarn. And yet, that's all it takes to make a 4″ x 4″ square on a pin loom. But how does that compare with the more popular crafts like knit and crochet? I decided to test it out with some basic swatches.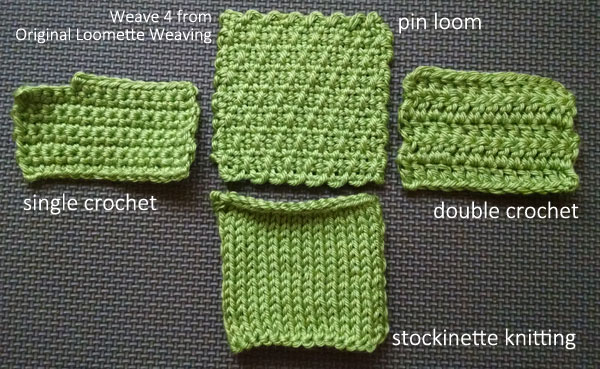 All swatches are made with Red Heart Soft in Guacamole (a worsted weight yarn). Let's start at the top.
Pin Loom Square (pictured top center)
The pin loom square is about 4″ x 4″. This square is shown in the pattern Weave 4 from Original Loomette Weaving (a free downloadable pattern book is available on eLoomaNation).
Double Crochet (pictured right)
Double crochet swatch worked in rows with an H / 5.00 mm hook measures 3 3/4″ x 2 1/2″.
Stockinette Knitting (pictured bottom center)
Stockinette swatch worked in rows on size 8 / 5.00 mm needles measures 3 3/4″ x 3″.
Single Crochet (pictured left)
Single crochet swatched worked in rows with an H / 5.00 mm hook measures 3 3/4″ x 2″.
What does it mean?
This isn't an exhaustive study of pin loom vs. crochet vs. knitting by any stretch of the imagination. But I think it's a fun simple illustration of the potential pin looming has when it comes to maximizing design with minimal supplies. Or more simply stated…pin looming is a great tool for stash busting.
Obviously changing hook or needle size as well as stitch pattern will influence the size of a swatch in both crochet and knitting. This quick little test was more about camparing the basics of each craft rather than an indepth study of any of the three.
As you might guess based on the sizes of the swatches, the pin loom square is the lightest and most flexible. As the swatches get smaller, the fabric becomes more dense creating a more solid and sturdy swatch with single crochet being the most hefty of the bunch.
There's not a lot you can make with only 8 yards of yarn (maybe a coaster or doll blanket). But the possibilities abound when you have several strands of yarn that are 8 yards long. As pictured in the swatches above, you can make 32 squares with one skein of Red Heart Soft. At 4″ x 4″ per square, it would only take 2 to 3 skeins of yarn to make a baby blanket! If you're using yarn remnants, the patchwork possibilities are endless! You can make bags, blankets, shawls, curtains, and more.
So, don't throw away your old left over yarn remnants. Save them up for pin looming!