Did you make the mason jar soap dispenser? I did. I have mine by my kitchen sink. I'd like to share with you what I discovered after a few months of use.
First, I have to admit: I love my mason jar soap dispenser. I do most of my hand washing by the kitchen sink, so it's been a godsend (that word may be a bit dramatic…but I really do love it!). This would also be a cute dispenser for dish soap (just sayin').
The pump worked great, the soap flowed smoothly (no air bubbles), and it didn't clog.
But after a few months of use, when the soap was nearly used up, I noticed a brown fleck floating in the soap. That's kind of strange since I hadn't opened the dispenser since filling it with soap. I had my suspicions of what it must be.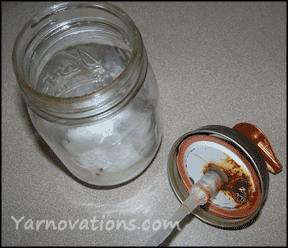 Yep, it's rust. The scratches I put on the inside of the lid when drilling the hole for the pump had all turned into rust. Not a pretty picture.
But, that's ok. Now that I know about the problem, I would modify the soap dispenser as follows:
Make a ring from plastic packaging , or
Use a plastic canning jar lid instead of a metal one, or
Replace the metal ring once a quarter
If you are doing option 1, simply use a permanent marker to trace around the metal lid on a piece of plastic packaging. Cut it out and follow the directions outlined in the mason jar soap dispenser post we wrote a few months ago.
This issue with rust and metal is not a new problem (though it's new to me). A week or so ago I went to an antique mall with a girlfriend. While there, I stopped to use the restroom and saw a mason jar soap dispenser by the sink! The lid appeared to be made of tin. Curiosity got the better of me and I took a peak under the lid to see if it at a rust problem.
The inside of the lid was not copper/red/brown with rust, but it was black and murky leading me to believe that it had a similar unhappy reaction to being used as a soap dispenser.
Bottom line, mason jars are a fun way to make soap dispensers…but a little extra care with the lid will make a difference between one that is used for a short while vs. one that is used long term.
If you missed it, you can see our original post on how to make a mason jar soap dispenser with crochet owl cozy we posted a few months ago. Enjoy!