The cover girl in the Love of Crochet Weekend Crochet Projects 2013 is wearing our scarf design! Woo hoo!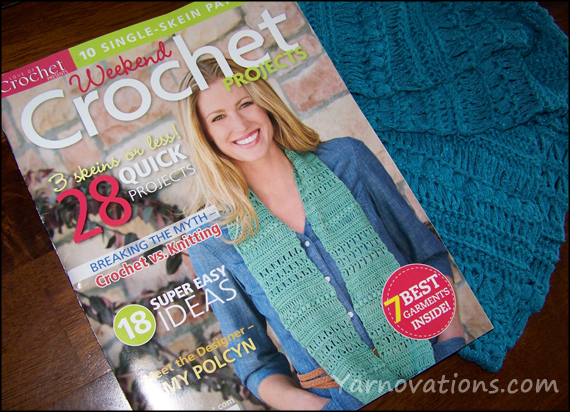 We knew the scarf was to appear in this issue…but we were totally surprised to see it on the cover! The magazine is shown here with the prototype of the scarf which is a bamboo yarn.
As mentioned in the magazine, this project only takes three stitches: Broomstick Lace, Puff Stitch and Single Crochet. This design will look fabulous in lots of different types of yarns. The yarns we used are:
Prototype:
Kollage Yarn: Temptation in Pacific Blue
Bamboo, Cotton, Nylon
Featured in Magazine:
Kollage Yarn: Milky Whey in Mala Green
Milk, Soy
Check your local craft store or bookstore for this special issue.
See other projects in this issue: Love of Crochet "Crochet Weekend Projects" 2013.