Greek Salad Dressing Recipe and Crochet Ladybug Jar Cozy
We've prepared a simple Greek salad dressing that is stored in a mason jar and wrapped it with a crochet ladybug cozy!
This is a fun and delicious treat for summer and a cute way to spruce up salad dressings at your next summer BBQ or potluck.
Let's start with the recipe because the seasonings need time to blend.
Greek Salad Dressing Recipe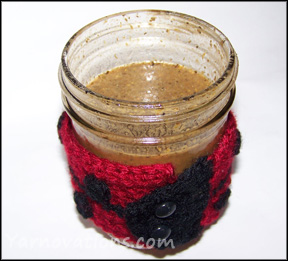 Greek salad dressing is super easy to make. This recipe does not need to be refrigerated since it's an oil and vinegar based dressing.
Below you'll see that we used several different types of vinegar. You can use whatever you have on hand (like a white vinegar or red wine vinegar). Also, this recipe has a ratio of 50% oil to 50% vinegar. If you want to tone down the vinegar flavor, use a little less of it or add a little extra sugar.
Greek Salad Dressing Ingredients:
Step One
1/4 cup red wine vinegar
1/4 cup white wine vine vinegar
1/4 cup balsamic vinegar
2 teaspoons garlic powder
1 1/2 teaspoons coarse black pepper
1 1/2 teaspoons salt
1 1/2 teaspoons onion powder
1 1/2 teaspoons dijon Mustard
1 small clove fresh garlic
2 teaspoon agave nectar (or 1 t sugar)
pinch of crushed red pepper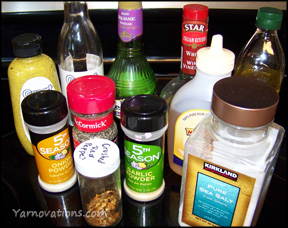 Step Two
3/4 cup virgin olive oil
Step Three
2 teaspoons oregano
2 teaspoons basil
 Directions:
Place all ingredients from Step One into blender. Blend on medium speed until well blended.
With blender still on medium, slowly add oil. This will emulsify the oil and vinegar and keep them from separating.
Stop blender. Add herbs from Step Three. Pulse until just blended.
Store in mason jar. Do not refrigerate. Best if allowed to marinate several hours (or overnight) before using.
Alternative:
Use fat free mayo instead of olive oil to create a creamy Greek salad dressing. Keep refrigerated.
This Greek salad dressing can be used in a number of delicious ways including on a green salad, on a chicken salad, on a pasta salad, as a dipping sauce in a veggie tray or as a marinade. Yum!
This recipe was inspired by: http://allrecipes.com/Recipe/Absolutely-Fabulous-GreekHouse-Dressing/Detail.aspx?evt19=1
Crochet Lady Bug Cozy
Making a crochet ladybug cozy is a fun summer project. Ladybugs are a gardeners best friend and therefore make the prefect adornment for a jar of salad dressing.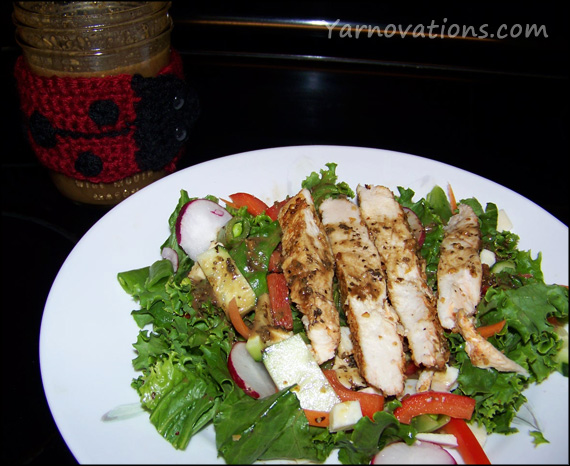 We've used Vanna's Choice yarn…and only a remnant is needed. Black and any shade of red or orange will work well for this project.
Crochet Ladybug Supplies:
Vanna's Choice Yarn (Medium Worsted Weight (4))
CRANBERRY, BLACK
(Mug: Brick, Black)
(Cup: Scarlet, Black)
Hook: H/8/5.00 mm
Hook: F/5/3.75 mm
2 Buttons – 1/4" or 3/8"
Needle & Thread
Yarn Needle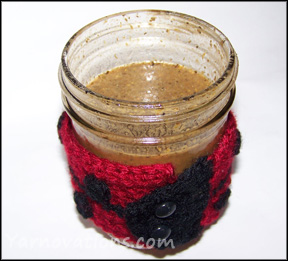 Ladybug Cozy Instructions:
Cranberry
Hook: H
Ch 35
Row 1: Sc in 2nd ch from hook. Sc across. (34)
Row 2-5: Ch 1, turn. Sc across. (34)
Finish off Cranberry and weave in ends. Attach Black.
Row 6: Ch 1, turn. Sl st across. (34)
Finish off Black and weave in ends. Attach Cranberry.
Row 7: Ch 1, turn. Working in the back loop only, sc across. (34)
Row 8-11: Ch 1, turn. Sc across. (34)
Finish off and weave in ends.
Turn to work on the ends of the Rows. Attach Black to the first Row.
Row 12: Work 10 sc evenly across the ends of the Rows 1-11. (10)
Row 13: Ch 1, turn. Hdc dec, 6 hdc, hdc dec. (8)
Row 14: Ch 1, turn. Hdc dec, 4 hdc, hdc dec. (6)
Row 15: Ch 1, turn. Hdc dec, 2 hdc, hdc dec. (4)
Row 16: Ch 1, turn. 2 sc dec. (2)
Finish off and weave in ends.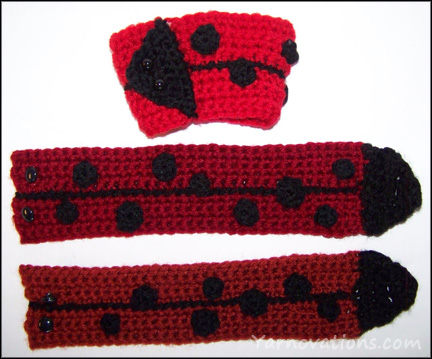 Spots (make 9)
Black
Hook: F
Ch 2
Rnd 1: Work 4, 6 or 8 sc in second ch from hook and join with a sl st for small, medium, and large spots.
Finish off leaving a tail for sewing.
Assembly Instructions
Sew Spots to Red portion (sew randomly as desired or symmetrically…most ladybugs Spots mirror each other on each Wing).
Sew two small black buttons about 1/2″ from the top and sides of the end of the red section.
Wrap cozy around container, and slip buttons through posts of the half double crochets in the black section.
More Cozies in Store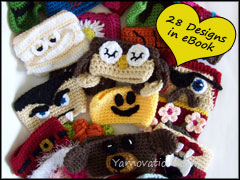 Love this ladybug cozy? There are more seasonal, holiday and just for fun cozies in the store in our Crochet Cup Cozy eBook. We've created an entire collection with 28 designs one ebook.
Looking for the cup and mug version? They're in the ebook.
Each design in the ebook has instructions to fit Mugs, Cups and Mason Jars. Every design has a delicious recipe or fun craft.
All 3 ladybugs pictured at the beginning of this post are in this ebook! AND the ebook includes 4 new designs – Dracula, Vampire, Mummy and Blue Jeans.

Read more about the set:
Blog: Coffee Cup Cozy Collection
Store: Coffee Cup Cozy Collection