FREE Pig Accessories and Modifications Crochet Pattern – Dress Up "Pork Chop"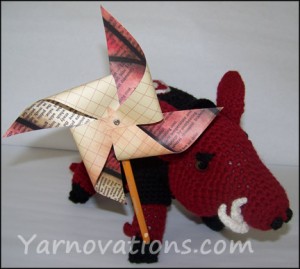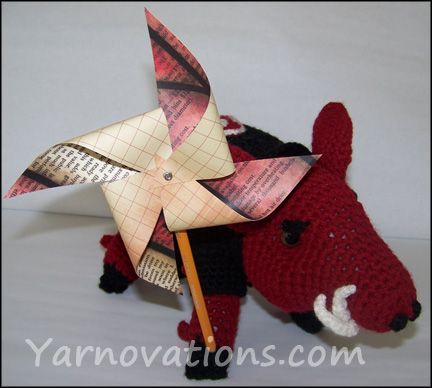 This free pig accessories pattern will transform your simple little pig into a stylish playtime buddy. It's amazing what a simple little shirt or collar will do. Add initials to the tag or make the pig  best of show by awarding them 1st place with the collar and medal.
The pattern includes:
Button Down Shirt pattern.
Collar and Medal (tag) pattern.
Instructions to modify "Pork Chop" to look like "Tusk" the Arkansas Razorback.
Instructions for the letter "A" for the shirt (for Arkansas Razorbacks).
Pinwheel instructions so your pig can look like "Maxwell" from the Geico commercials.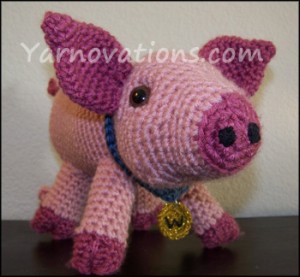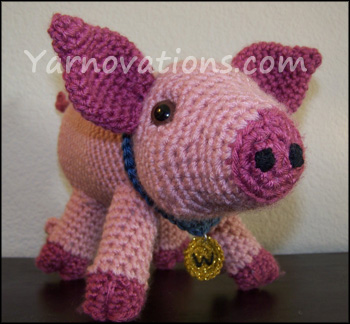 Skill Level: Easy+
The Shirt does use a No Chain Foundation Single Crochet – instructions for this special stitch are provided.
FREE Pig Accessories and Modifications Crochet Pattern – More About "Pork Chop"
This pattern is an add on to "Pork Chop". Learn more about the Pig Crochet Pattern in our blog. He comes with a pig stuffed animal, mounted pig head, mounted boar's head and wild boar stuffed animal. Buy "Pork Chop" in the store.

Free Patterns Page: Download the pattern from the FREE Crochet Patterns page.
Store: Add the Pig Accessories Free to your cart in the Store.