D Fence Football Christmas Ornament – FREE Crochet Pattern – Great for Any Team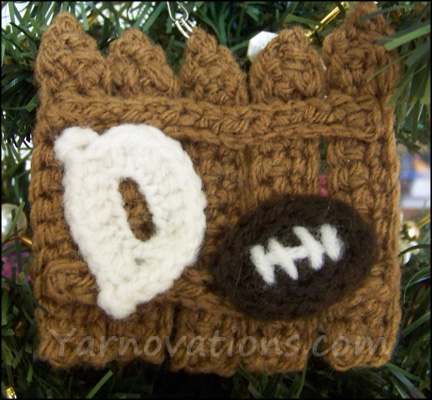 This FREE D Fence Football Christmas Ornament is great for any American football fan. You know we're passionate about sports. We love high school, college and professional football. We also know that a good offense is a good defense.
This football ornament is great for friends and family alike. It can be used as a Christmas tree ornament, a refrigerator magnet or applique for a hat or other accessories. And this is a great stash buster. Use whatever yarns you have in the house just so long as your colors have contrast so each element will stand out.
D Fence (defense) is a popular poster design that football fans take with them to football games. It's our way of encouraging the defensive line (players) to play hard and win.
D Fence Football Christmas Ornament – The Pattern Details
The D Fence Football Christmas Ornament measures 3 inches x 3 inches. It's design is inspired by the picket style fence.
Skill Level: Easy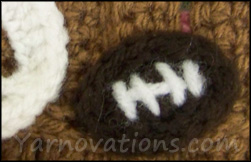 The pattern for the D Fence Football Ornament includes detailed written instructions, supply list, gauge info, abbreviation list, checkbox to mark your progress, photos and more.  The FREE pattern includes:
Picket slats
Horizontal supports
Letter "D"
Mini NFL style football

BONUS: This FREE pattern also includes instructions on crocheting a flower garden scene. We couldn't resist making this fence ornament multi-purpose. The flower garden can be crocheted on the back or as a separate ornament all together.
D Fence Football Christmas Ornament – Download for FREE
This pattern includes all the great features found in all our patterns including photos, detailed instructions, gauge information, supply list, check boxes to mark your progress, and more.

Free Patterns Page: Download the pattern from the FREE Crochet Patterns page.
Store: Add the Fence Ornament Free to your cart in the Store.