Create your own jungle with this fun crochet monkey, banana, and palm tree pattern.
Perfect for a jungle themed nursery, a Hawaiian luau party, a tropical paradise or a desert oasis. Kids will enjoy feeding the monkey bananas while adults will be impressed with the your large scale crochet project, the palm tree(s).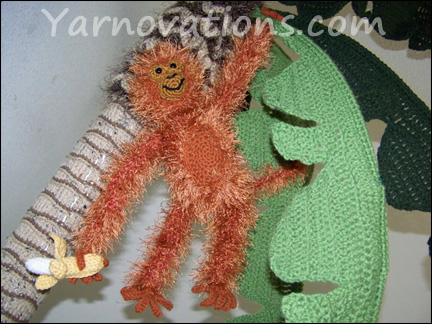 Mix and match the parts and pieces and colors to best meet your needs. Whether you're looking only for a furry monkey, a sweet snack or a tall bit of shade, this pattern has it all.
Skill Level: Intermediate
Crochet Techniques: Crochet in the round, crochet in front and back loop, crochet increase and decrease, loop stitch, crocodile stitch
Crochet Monkey, Banana and Palm Tree Pattern: THE MONKEY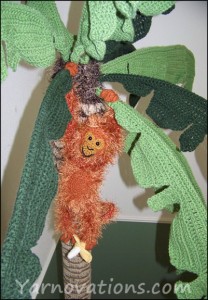 Our crochet monkey was crocheted with copper Fun Fur which resembles an orangutan (tailless) or Golden Langur (with tail). Mix and match the colors to create your favorite monkey.
Monkeys have many different characteristics. Some have more hair than others. Some have tails. This pattern includes instructions for these optional features.
This crochet pattern includes hands and feet that grip. That's right. We've crocheted pipe-cleaners (fuzzy sticks) into the hands which allows them to grab hold of things…like a banana. Super fun! (Edges of fuzzy sticks can be sharp – do not use in toys for babies or small children).
The monkey has knee and elbow joints, too, making it more fun to play.
Measures: 14″ tall x 4.5″ wide x 4.75″ thick.
Crochet Monkey, Banana and Palm Tree Pattern: THE BANANA
Yum. Crochet bananas for your furry little monkey and make playtime deliciously fun. They are easy and quick to make, so why not crochet a bunch?
The edible portion is crocheted in the round, but the peel is crocheted back and forth to simulate the ridges that bananas have.
These fit perfectly into the hands and feet of the crocheted monkey.
Measures: 4″ long x 3.5″ around.
Crochet Monkey, Banana and Palm Tree Pattern: THE PALM TREE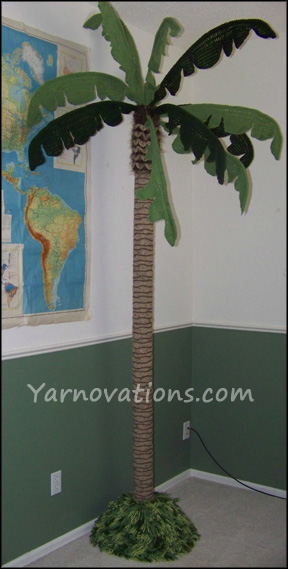 Let your monkey swing from the trees with this larger than life crochet project. The palm tree is perfect for decorating the corner of a room or on the patio for a theme'd party.
It's the details in the crochet that make this palm tree so adorable. The loop stitch grass, crocodile stitch top and fun yarn make this very realistic. And the pieces that help it all take shape (drain pipe, christmas tree stand and floral foam) are easy to find.
Measures: 8.5′ tall x 4′ wide. Can be made shorter or taller as needed.
Crochet Monkey, Banana and Palm Tree Pattern: Now Available
It's a Jungle crochet pattern is now available!
Create your own oasis. Buy It's a Jungle today in the store.