Crochet Monkey Baby Blanket and Toy Set
Welcome new baby with this fun crochet monkey baby blanket and toy set. This pattern comes with the baby blanket, security blanket and three crochet block designs.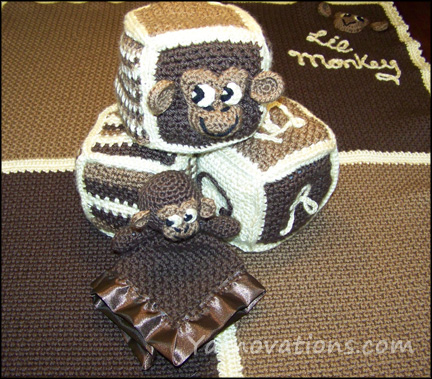 Perfect for newborns and little tykes, these three Lil Monkey accessories will get lots of use for years to come. Mix and match the colors to coordinate with baby's nursery.
Crochet Monkey Baby Blanket and Toy Set – The Pattern
The crochet monkey set comes with three accessories: baby blanket, security blanket and toy blocks.
Skill Level: Easy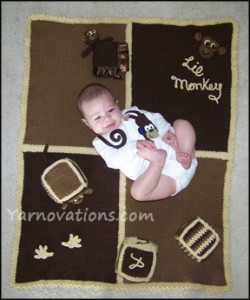 1. CROCHET MONKEY BABY BLANKET
Perfect for baby to sleep on or to be wrapped in to keep warm.
This simple blanket is crocheted in Rows with a simple single crochet ch-1 pattern. It's dressed up with a crochet monkey face in one corner and mini hands in another.
Measures: 37" x 29"
2. CROCHET MONKEY SECURITY BLANKET
Perfect for giving sweet little kisses to baby. And great as a security blanket for when the little tyke gets a bit older. This Lil Monkey can be carried by the arm, head or blanket. The satin edge makes it fun to rub between baby's fingers. It's the perfect bedtime buddy!
The stitch on the security blanket matches the larger baby blanket. The head and arms are crocheted in the round.
Measures: 9" x 9" when open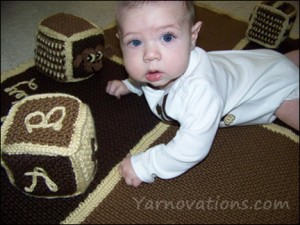 3. CROCHET MONKEY TOY BLOCKS
Babies will love batting these around. And as they get older, they will love stacking them up and knocking them down.
Mix and match the panels to make a wide variety of blocks. Included are stripes, solids, numbers, letters and a crochet monkey face and tail.
Measures: 4" x 4" x 4"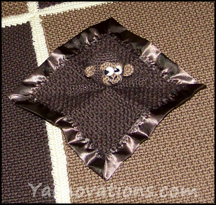 Crochet Monkey Baby Blanket and Toy Set – Available in the Store
All three of these crochet monkey accessories are available in the Lil Monkey Accessories Set in the store.
This set is great for making gifts for baby showers. Make one or all three, the new mom is going to love them all.
This set includes: baby blanket, security blank and toy blocks.

More Monkey Stuff in Store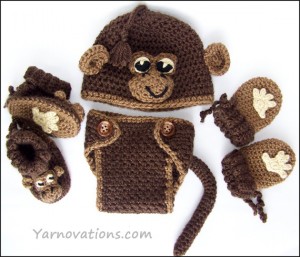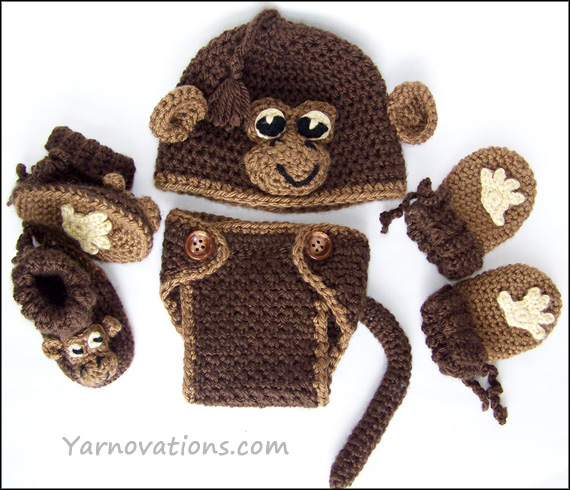 Want more monkey stuff? Theses blankets and blocks have a matching hat set!
This hat set includes preemie and newborn size hats and diaper cover. It also has newborn booties and mitts.
Learn more about the Lil Monkey Baby Hat Set.
Not enough? There are is more monkey stuff in the store!