Crimson Cowl in Love of Crochet – Fall 2013 Issue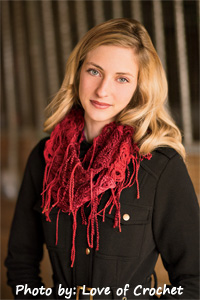 We have another scarf / cowl featured in Love of Crochet Magazine. The Fall Issue 2013 is available in stores until October 21.
This Crimson Cowl is a great 1 skein project! We've used Boutique Changes by Red Heart. There are 6 different yarn fabrics in one skein.
For anyone learning how to do broomstick lace, this is a great first project. This stunning cowl looks more complicated than it is because of the yarn changes.
Update 5-15-2014
We have the rights back on this beautiful cowl pattern. You can now get the free Crimson Cowl pattern in the shop.
Magazine Errata: On Row 3, the ch 1 is only done at the beginning in order to lock your yarn at the top of the loops. Here's the correction:
Row 3: (broomstick lace row) insert hook in 5 loops, yo, pull through loops, ch 1, work 5 sc in same group of loops. *work 5 sc in each set of 5 loops* across.
Please also note that the tassels are just one strand of yarn folded in half and attached with a lark's head knot.