Christmas Door Knob Hanger Card Keeper
This door knob hanger is a cute and functional card keeper! This little pocket is just the right size for storing all the greeting cards you'll receive from family and friends this holiday season.
The handle of this adorable pocket hangs nicely on hooks and door knobs. Of course, you could crochet this in other fun colors and use it all year long to hold your mail and keys.
Christmas Door Knob Hanger Card Keeper – Pattern Details
The Door knob hanger has cute details like the fun fur collar, simple snowflake and easy stitch pattern of the burgundy bag (a double crochet and single crochet pattern).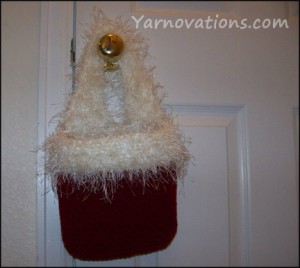 Skill Level: Easy
Instructions include:
Card Keeper Pocket
Snowflake Ornament Instructions
The PDF pattern has written directions, photos, gauge info, materials list, checkboxes to mark your progress and more.
Christmas Door Knob Hanger Card Keeper – FREE Pattern
The Door Knob Hanger Card Keeper is available in the store and on the Free Crochet Patterns page.
Feel free to print and share the FREE pattern with friends and family. You have permission to sell and give away your finished projects.

Love Pockets? Upgrade to the Pocket Organizer Set!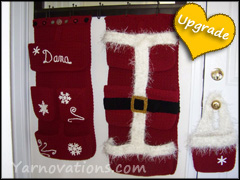 The Card Keeper is part of the Closet Organizer Set! Here's a sneak peek at the other items in the Set:
The Santa Pocket Organizer
The Snowflake Closet Organizer
Card Keeper
4 Snowflake Ornaments
Learn more:
Blog: Pocket Organizers
Store: Closet Organizers