Chocolate Orange Santa Hats for Everyone!
This Santa hat for chocolate oranges works up so quickly, it's the ultimate last-minute gift to make! Need a gift for family, friends, teachers, neighbors? This is the project for you! And just in case your friends don't like the chocolate orange, there are raspberry and mint flavored chocolates (shaped like oranges)!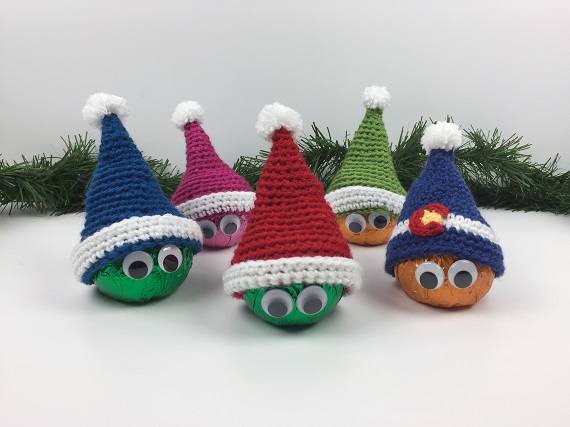 This hat is crocheted from the top down. The pattern is rather simple and quick to follow. I include my hook size and row count, but you should check your hat on the orange to make sure it fits as you go. Let's get to it!
Materials:
Chocolate Orange (I used Ovations Break-A-Parts)
Hook: J
Yarn: Lion Brand Vanna's Choice, medium (4), colors shown include: Scarlet, Cranberry, Raspberry, Fern, Sapphire with White (Colorado hat: Colonial Blue, White, Lemon, Scarlet)
Pompom maker of your choice (I used a fork.)
2 large googly eyes
Glue
Scissors and yarn needle
Santa Hat Pattern
Hat color of your choice
Ch 2
Rnd 1: 4 sc in second ch from hook. (4)
Rnds 2-17: (Crochet in the back loop only or both loops.) Sc around making 2 increases in each round in different places (so you don't get an increase line up the hat). (6-36)
Check the hat size by placing it on the chocolate orange. Continue making increase rounds if necessary.
Sl st into the next st. Cut yarn and weave in end.
Turn the hat upside down so you will be working in the opposite direction. Attach white to the back loop of any st.
Rnds 18-19: Work in both loops, sc around making one increase. (37, 38)
Rnd 20: Sc around. Join with a sl st. Cut yarn and weave in end. Fold up white to make a brim.
Make a small pompom and glue or sew to the top of the hat.
Glue googly eyes to the center front of the hat.
Colorado Hat Variations
Work Rnds 1-15 like above in Colonial Blue. Do Rnds 16-17 in White. Finish the hat in Colonial Blue.
For the Colorado C, use Lemon to make a small circle by chaining 2 and working 8 sc in the second ch from the hook. Join with a sl st, cut and weave in the end. Attach Scarlet to the back loop of any st. Work 2 sc in 4 sts, work 3 sc in the next st. Finish off. Cut yarn leaving a tail for sewing. Sew on the White section of the hat.