Caramel Corn Recipe for Crochet Baseball Cozy
Make this delicious and easy caramel corn recipe to be stored in a mason jar with a crochet baseball cozy! Just in time for the next big game…a tasty treat for players and fans alike.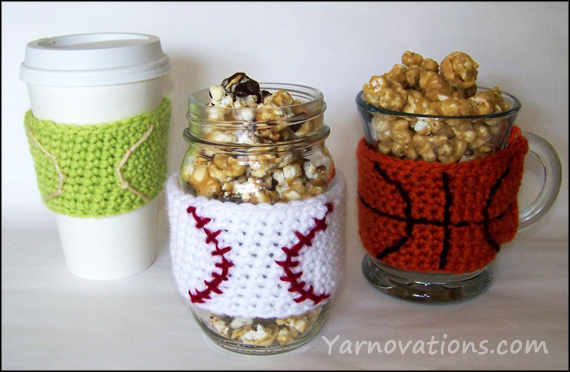 Peanuts and Cracker Jacks are synonymous with baseball. We're celebrating American's favorite pastime with this fun baseball cozy and caramel corn combo.
Let's dig in and make some caramel corn. It'll need time to cool…which will give you time to whip up a cozy or two!
Caramel Corn Recipe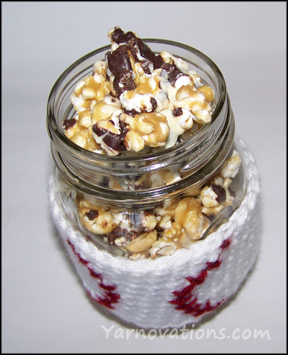 This caramel corn is very versatile. Make a rich chocolate drizzled caramel corn (more like moose munch) by following the recipe below. Make an extra thick and rich caramel corn (more like Cracker Jacks) by doubling the sauce and omitting the chocolate. If you love peanut butter, add ½ cup of peanut butter with the corn syrup (step 4).
We asked friends and family to tell us which version of the caramel corn they liked the best (chocolate vs. extra thick and rich caramel). It was a tie! Since there is no clear favorite, you should make the one that you'd prefer.
INGREDIENTS & SUPPLIES:
12 cups popped white popcorn (½ cup unpopped)
1 cup dry roasted peanuts
1 cup light brown sugar
¼ cup light corn syrup
¾ teaspoon salt
½ cup butter
¼ teaspoon baking soda
½ teaspoon vanilla extract
1 (4 oz) dark chocolate bar (Ghirardelli 60% Cacao)
1 (4 oz) white chocolate bar (Ghirardelli White)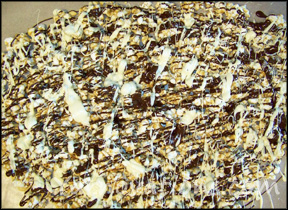 DIRECTIONS:
Preheat oven to 225°. Lightly grease a 9×13 pan. Set aside.
Lightly grease a large soup pot (stock pot).
Pop popcorn (we used an air popper), remove any unpopped kernels. Pour popcorn then peanuts into soup pot.
Melt brown sugar, corn syrup, butter and salt in sauce pan on medium heat stirring regularly bringing it to a boil. Boil and stir constantly until temperature reaches 250° to 260° (approximately 5 minutes). Caramel will be bubbly and a bit stretchy.
Remove from heat. Combine baking soda and vanilla extract and stir into caramel sauce.
Pour caramel over popcorn. Stir until popcorn is evenly coated with caramel.
Pour popcorn into prepared 9×13 pan. Bake for 45 minutes stirring every 15 minutes.
Line cookie sheet with wax paper. Pour caramel corn onto wax paper. Break into pieces if needed. Cool completely.
Melt dark chocolate over low heat stirring constantly. Drizzle over popcorn.
Melt white chocolate over low heat stirring constantly. Drizzle over popcorn.
Refrigerate for 10 minutes or until chocolate solidifies.
Store and serve in mason jars. Serve within 10 days.
This recipe is a modifed version of: My Amish Friend's Caramel Corn.
I've been told that by adding a bit of molassas to the sauce (step 4) this caramel corn will taste like Cracker Jacks!
Crochet Baseball Cozy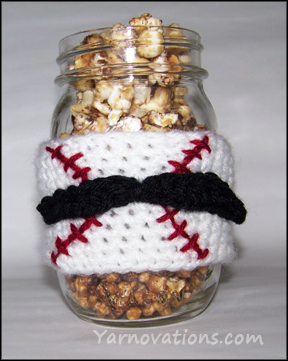 We created this fun cozy and caramel combo in honor of the baseball team the Oakland A's…AKA: the Mustache Gang. In 1972, right fielder Reggie Jackson refused to shave off his mustache which prompted the team owner Charles Finley to pay all the players to grow a mustache. And on June 18th, anyone wearing a mustache got into the game free. So…when you head to your next baseball game, wear a 'stache and bring some caramel corn!
Note: Need a mustache pattern? We have three free mustache patterns on our post: Father's Day Gift Ideas, Steak Rub Recipe and Mustache Cozy.
The crochet baseball cozy is another great stash buster. We've used Vanna's Choice yarn for this project. She has several colors that are a perfect match for various types of sports balls.
Skill Level: Beginner
Stitches Used: Chain, Slip Stitch, Single Crochet
Techniques Used: Crochet in the Round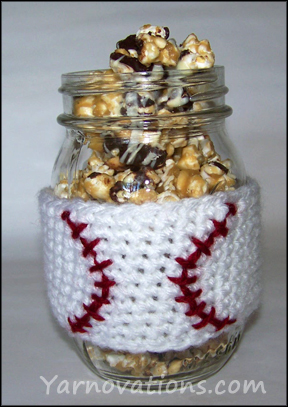 SUPPLIES:
Vanna's Choice: Worsted Weight (4)
Baseball: WHITE, CRANBERRY
(Basketball: TERRECOTTA, BLACK)
(Tennis Ball: LIME, BEIGE)
Crochet Hook: H/8/5.00 mm
Yarn Needle for sewing
BASEBALL JAR COZY INSTRUCTIONS
White
Hook: H
Ch 34, join with a sl st.
Rnd 1-10: Sc around. (34)
Join with a sl st. Cut yarn; weave in end.
With Cranberry, embroider baseball threads.
More Cozies in Store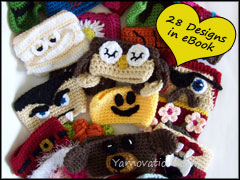 Love this baseball cozy? There are more seasonal, holiday and just for fun cozies in the store in our Crochet Cup Cozy eBook. We've created an entire collection with 28 designs one ebook.
Looking for the cup and mug version? They're in the ebook.
Each design in the ebook has instructions to fit Mugs, Cups and Mason Jars. Every design has a delicious recipe or fun craft.
All 3 balls pictured at the beginning of this post are in this ebook! AND the ebook includes 4 new designs – Dracula, Vampire, Mummy and Blue Jeans.

Read more about the set:
Blog: Coffee Cup Cozy Collection
Store: Coffee Cup Cozy Collection