The Dishcloth+ Series, sponsored by Universal Yarn, uses Fibra Natura Good Earth yarn. It's been a blast to work with. Here's my impression of the yarn.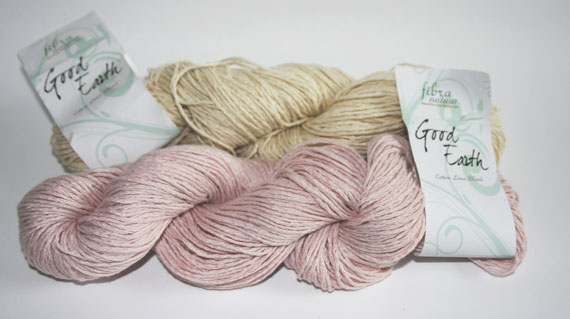 Yarn Features:
Universal Yarn describes Good Earth as: a soft cotton/linen blend that's easy on the hands and a pleasure to work with.
Worsted Weight: 170 yrds / 100 g
53% Cotton and 47% Linen
Good Earth Pros:
Beautiful soft color pallette
Also available in variegated yarn colors
Creates a durable fabric
Fiber blend gives is a nice drape
Fabric softens with washing
Good for showing stitch definition
No elasticity, which is good for a durable dishcloth; it won't get out of shape
Good Earth Cons:
I label the following as cons, but they might better be labeled "Things to be aware of."
Shrinks when washed. Many fibers shrink when washed, and this is one. If the dimensions of the project matter, it might be a good idea to make the project a little larger.
Loses a bit of it's sheen after going through washer/dryer. I've had other cotton fade drastically when washed. This maintains its beautiful color after washing with only a little loss of its sheen.
Good Earth Holding Up in the Wash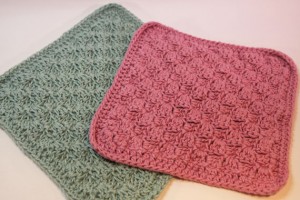 It's a dishcloth, so naturally I ran it through the wash. Pictured right is the Corner to Corner Dishcloth. Left, in Jade (green), is the original dishie. Right, in Canyon (pink), is the dishcloth after one time through the laundry.
Prior to washing, the dishcloth measured 8″x8″. After a trip through the washer and dryer it measured an inch smaller.
If you have to (or choose to) wash dishes by hand, this fiber is fabulous. It's durable yet soft. It will soak up water like a sponge if it's alreay damp, so it's great for cleaning up spills.
The colors in this line blend well together. They are soft and soothing, a lovely mix of tones. Because it's a blend of cotton and linen, it really is much softer to crochet with than many straight cotton yarns. The finished product is softer as well.
Dana is a big fan of knit and crochet dishies, so you'll find this at her kitchen sink or in a drawer waiting for it's turn to scrub pots and pans.
Both Dana and I have enjoyed working with Fibra Natura Good Earth in the Dishchloth+ Series. I look forward to showing you more fun kitchen and dining stuff in the coming months.