Frameable Non-Crochet and Non-Knit Yarn Project Challenge
Our local knit and crochet group came up with another quirky challenge. Here's a list of the criteria:
No knitting or crochet could be used in the project.
It had to be frameable.
It had to be between 8×10 and 11×14 inches in size.
It had to be 25% yarn or more.
Two people were up for the challenge and two people were up for the judging. Interestingly enough, each judge favored a different project…so in the end, it was a tie for first place.
Bamboo Plastic Canvas Project
This mixed media piece was inspired by the panda bear, a native species in China. The black and white background is made of yarn stitched on the diagonal over plastic canvas. The bamboo is created with scrapbook paper. The Chinese characters is the word "Bamboo", which is the common diet for panda bears.
Yarn: Vanna's Choice Black and White
Measures: 11″ x 14″
This project was designed by Deborah, who also designed the free panda baby hats.
Starry Night – Fauxchet Hook Rug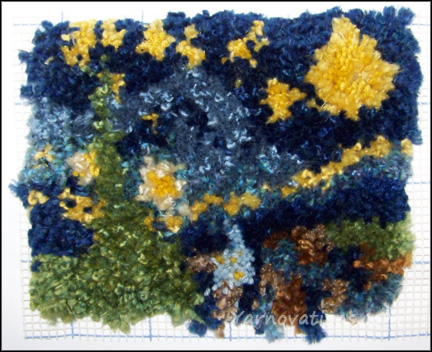 This hook rug project was created with a fauxchet tool and a variety of medium and bulky weight yarns. The image was drawn onto canvas with a marker, then hooked right from the skeins of yarn. The cut loops and the color and texture of the yarns simulate the impressionist style of the original painting.
This frameable piece would require the use of a 3D frame, though the judges thought the softness of the piece would make it better suited as a pillow.
Supercoloring.com has a free coloring page of Starry Night which was used as the template for this project.
Yarn: Lion Brand: Vanna's Choice and Homespun
Measure: 8″ x 11″
This project was designed by Dana who also designed other free fauxchet patterns.