Russian Tea Recipe and Crochet Radioactive Cozy
There are many Russian Tea Recipes, but this is my all time favorite. My mother calls it Spiced Tea, but at craft shows it is referred to as Russian Tea. And because I have a sweet tooth, I like this really sweet blend.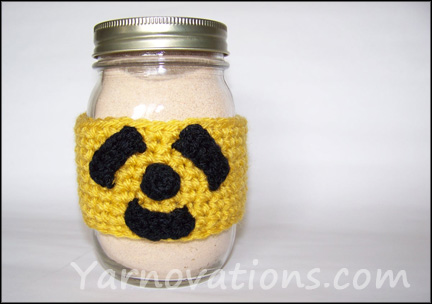 We're packaging this tea in a mason jar which is perfect for gift giving. Since it's loaded with sugar, the crocheted cozy with the radioactive symbol on it is definitely fitting! This cozy would be perfect for any "toxic" drink (tea, coffee, hot chocolate) or food (bean or split pea soup).
Let's start with the Russian Tea. Then you can enjoy a cup while you crochet the radioactive cozy!
Russian Tea Recipe
This Russian Tea Recipe has been in the family for years. So I'm not sure who to credit for this particular combination (if you know, please leave me a comment below). You can adjust the sweetness of your tea by adding more or less to your cup of hot water.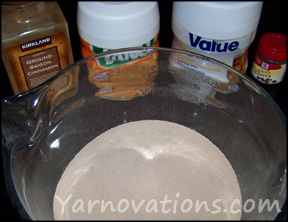 This spiced tea is a cross between hot apple cider and orange juice. Yum!
Ingredients:
1 cup Instant sweetened lemon tea
1 cup Tang
½ to 1 ½ teaspoon cinnamon
¼ teaspoon cloves
Directions:
Mix all ingredients together in a bowl.
Store in mason jar.
Serving:
Add 3 teaspoons to 1 cup boiling water (adjust quantity to desired sweetness).
Crochet Mason Jar Cozy with Radioactive Symbol
If you like your beverage a little stronger than most, the radioactive symbol is the perfect image for your cup cozy! It's also a cute way to adorn a gift for April Fools Day (April 1)…just sayin'.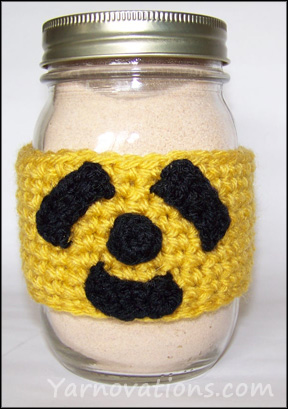 This is a quirky and delightful way to use up your yarn stash. We've used Vanna's Choice. Use Mustard or Radiant Yellow for a traditional cozy or try a Radiant Lime to represent the radioactive material inside your cup or mason jar!
Skill Level: Intermediate
Stitches Used: Chain, slip stitch, single crochet, no foundation chain double crochet
Techniques Used: Crochet in the Round
Supplies:
Vanna' Choice Yarn: MUSTARD, BLACK
Mason Jar
Jar Cozy Instructions
Mustard
Hook: H
Ch 34, join with a sl st.
Rnd 1-9: Sc around. (34)
Join with a sl st. Cut yarn; weave in end.
Radioactive Symbol Instructions
Center Circle Instructions
Black
Hook: C
Ch 3
Rnd 1: 7 hdc in 3rd ch from hook. Join with a sl st. (7)
Finish off leaving a long tail for sewing.
Outer Semi-circle Instructions (make 3)
Black
Hook: C
Ch 4
Row 1: Ncfdc in 4th ch from hook, 3 ncfdc, Ch 3. Sl st in base of dc. (5)
Finish off leaving a long tail for sewing.
Assembly Instructions
Pin then sew Radioactive symbol to cozy. Weave in ends.
More Cozies in Store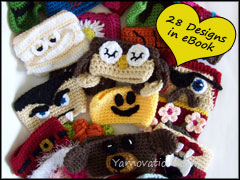 Love this radioactive cozy? There are more seasonal, holiday and just for fun cozies in the store in our Crochet Cup Cozy eBook. We've created an entire collection with 28 designs one ebook.
Looking for the cup and mug version? They're in the ebook.
Each design in the ebook has instructions to fit Mugs, Cups and Mason Jars. Every design has a delicious recipe or fun craft.
The ebook includes 4 new designs – Dracula, Vampire, Mummy and Blue Jeans.

Read more about the set:
Blog: Coffee Cup Cozy Collection
Store: Coffee Cup Cozy Collection