Skull Pattern for Fauxchet Hook Rugging
This skull pattern was our first attempt to hook rug with the easyloop fauxchet tool.
We haven't hook rugged for years….maybe even decades (that makes us sound old)! But it brings back fond memories of craft times with our mom and special pillows she made for us.
Skull Pattern
This skull and cross bone image we charted for this pattern would make a fun "keep out" sign for a child's door or a fun pillow for his or her room. We considered creating a rug for a high traffic area.
Supplies:
Easyloop fauxchet tool
Latch Rug Canvas
Yarn – 2 skeins
(Pictured: Red Heart Super Saver – Light Raspberry, Tea Leaf)
Marker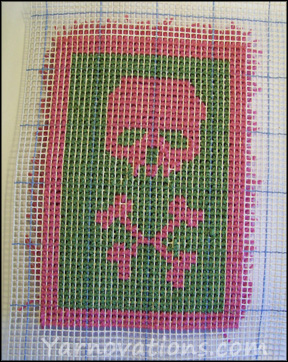 Instructions:
Referring to the skull chart, color all the "BL" bars with a marker. You now have two tones drawn out on your canvas.
Select your yarn color and start hooking! If you are using the easyloop tool, start at the top left corner (for right handed). With traditional hook rugging, you'll start at the bottom.
Optional: cut loops and trim to desired length.
NOTE: If using the larger mesh and worsted weight yarn, try double stranded hooking with the easyloop tool to create a fuller rug.
Our Thoughts on Hook Rugging with the easyloop tool
Hook rugging is super easy with the easyloop tool. Since the technique uses a skein of yarn instead of individually cut lengths of yarn, hook rugging goes a lot faster! I love crafting…but I'm all about finishing projects quickly so I can start the next one!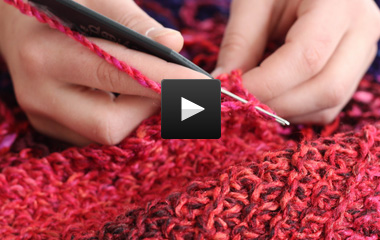 The technique is very similar to fauxchet, but instead of going through loops, you are fauxcheting around the bar in the canvas.
This fauxchet video will show you the basic use of the fauxchet tool. And when you purchase the tool, there are instructions and videos for hook rugging.
Pros of hook rugging with the easyloop tool
Easy to learn
Fast
Less mess with using skeins instead of cut yarn
Creates loops instead of cut ends
More color choices available since skeins are used instead of cut yarn
Can create a mix of loops and cut yarn as desired
Cons of hook rugging with the easyloop tool
Creates loops instead of cut ends
Can knot up if tool is wrapped around bar wrong
Challenging to create loops of consistent sizes
I'm already dreaming about my next hook rug project. I'm definitely going to be using the easyloop tool. If you love to hook rug, you've got to try this tool!
More Fauxchet
To learn more about the easyloop tool, visit fauxchet.com.
Read our initial product review of the easyloop fauxchet tool.
Check out our FREE Fauxchet Patterns.