Crochet Flower Yard Picks – Beautiful Mother's Day Bouquet
These crochet flowers are bright, cheerful and fun!
The pattern for these lovelies is free at RedHeart.com. This is the first design we've created for Red Heart. The flowers use Red Heart Super Saver yarn.
The stems are crocheted as cozies around chopsticks making these perfect as yarn bombs in friends' gardens or in floral arrangements.
They would be wonderful "Thinking of You" gifts as well as birthday and Mother's Day gifts. You could also stick a pen in the stem and create a bouquet for your office!
One row of the leaves are crocheted around chenille fuzzy sticks (pipe cleaners) which allow them to be shaped.
Create a bouquet of only one type of flower or create an assortment with this pattern.
The pattern includes several flowers:
Carnation
Daffodil
Daisy / Black Eye's Susan
Iris
Get the Free Pattern at Redheart.com
We've taken some photos of each type of flower. Let's take a closer look:
Carnation – Crochet Flower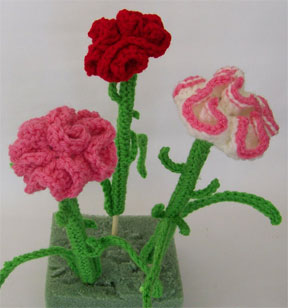 The carnation is crocheted in a technique similar to wiggle crochet meaning rows of crochet are worked on top of a grid.
Daffodil – Crochet Flower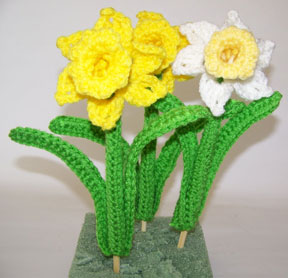 The design of the stem allows the flower to face forward like a real daffodil!
Daisy – Crochet Flower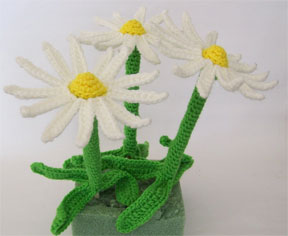 Change the colors and this could be a Black Eyed Susan or Gerber Daisy!
Iris – Crochet Flower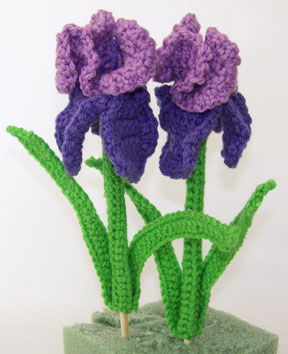 The petals naturally drape like a real iris! Some petals drape down and others up.