Apple Dumpling Recipe with 4th of July Crochet American Flag Cozy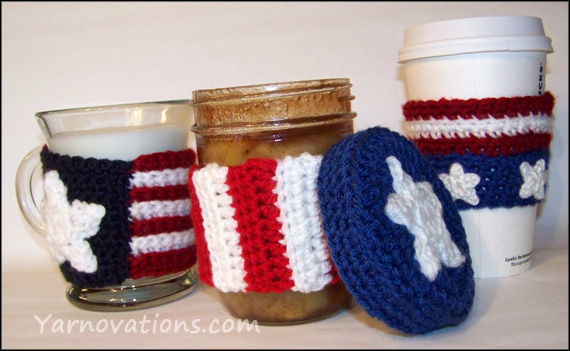 This super sweet, super easy, Apple Dumpling Recipe is another one of our family favorite desserts (most often requested by my brother)! Dress it up in this crochet American Flag cozy and you've got a fun 4th of July dessert and decorating idea (perfect for any American holiday, really)!
Let's start with the Apple Dumplings. While they bake and cool, you can whip up the mason jar cozies.
Apple Dumpling Recipe / Pie in a Jar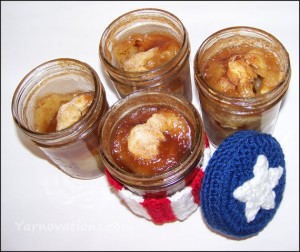 I modified an Apple Dumpling Recipe to be a Pie in a Jar…and IMHO it was the best Apple Dumplings dessert my family has ever had (my parents agree)! My husband loved it so much…he requested I make it again with other fruits like peaches!
Serves 4 (makes 4 extra large desserts).
Pie Ingredients:
4 wide mouth pint size mason jars
2 ready-made pie crusts
3 Granny Smith Apples
4 Tablespoons sugar
4  1/2 teaspoons cinnamon
1/2  teaspoon nutmeg
Syrup:
1 cup sugar
1  1/2 cups water
1/4  teaspoon cinnamon
1/8  teaspoon nutmeg
Topping: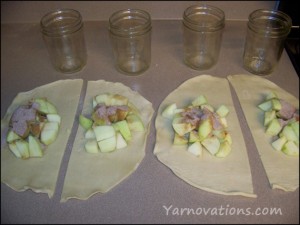 Directions:
Preheat oven to 375°.
Mix all Syrup ingredients together in a pot and bring to a boil. Remove from heat and set aside.
Unroll two pie crusts and cut each in half. You now have dough for 4 dumplings.
Peel, core and dice apples (approximately ½" cubes).
Divide apples evenly and place in center of dough.
Mix remaining Pie ingredients (4 T sugar, 4 ½ t cinnamon, ½ t nutmeg) together in a bowl. Sprinkle 1 Tablespoon of mixture on each dumpling over top the apples.
Dab your finger in water and moisten the edges of the dough. Wrap the dough around the apples creating a cocoon around the apples pressing edges together (if dough breaks or tears, don't worry. A few holes in the dough is fine).
Spray the bottom of each jar with cooking spray. Place one dumpling in each jar.
Pour ½ cup of Syrup in each jar making sure the syrup reaches the bottom of the jar (use a knife to press the dumpling away from the side of the jar if needed).
Sprinkle ½ teaspoon sugar on top of each dumpling.
Place jars on cookie sheet and bake in oven for 1 hour.
Allow to cool. Serve warm.
Recipe inspired by: http://relish.com/recipes/old-fashioned-apple-dumplings/
Alternatives:
If you'd like to add a bit more color to this dessert, try adding a little red food coloring to the syrup.
Want it a little more "spicy"? Add some Red Hots candies to the apples.
This recipe makes 4 extra large servings. For a smaller dessert, cut each pie crust into either 3 or 4 pieces to create 6 or 8 desserts. Divide all ingredients evenly among each dumpling.
Crochet American Flag Cozy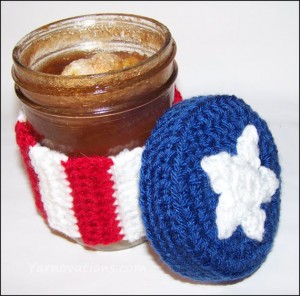 It's the stars and stripes that make this look like a crochet American Flag. While it is possible to crochet an exact replica of the American Flag (50 stars and 13 stripes), we also think it's fun to get a little artistic and a bit fanciful with this cozy project. Have fun with it.
We used Vanna's Choice for this project. This is a great way to use up remnants from your stash. We showcase this in two different reds and two different blues to illustrate that most any red and blue will work.
Skill Level: Easy
Stitches Used: Chain, Slip Stitch, Single Crochet, Half Double Crochet
Techniques Used: Crochet in the Round, Crochet in Rows, Crochet in Back Loop, Crochet in Both Loops, Crochet Increase (work two stitches in next st)
SUPPLIES:
Vanna's Choice:Worsted Weight (4)
Jar Cozy: SCARLET, WHITE, COLONIAL BLUE
(Mug: CRANBERRY, WHITE, NAVY)
(Cup: CRANBERRY, WHITE, COLONIAL BLUE)
Crochet Hook: H/8/5.00 mm
Yarn Needle for sewing
AMERICAN FLAG JAR COZY INSTRUCTIONS
Scarlet
Hook: H
Ch 12
Row 1: Hdc in 3rd ch from hook. Hdc across. (10)
Finish off and weave in ends.
Attach White
Row 2: Ch 2, turn. In back loops only, hdc across. (10)
Row 3: Ch 2, turn. In both loops only, hdc across. (10)
Finish off and weave in ends.
Attach Red
Row 4: Ch 2, turn. In back loops only, hdc across. (10)
Row 5: Ch 2, turn. In both loops only, hdc across. (10)
Finish off and weave in ends.
Row 6-23 Repeat Rows 2-5 until you have 23 Rows. End with White.
Attach Red
Row 24: Ch 2, turn. Hdc in back loops only across. (10)
Finish off leaving a long tail for sewing.
Join Row 24 to foundation ch with whip st across.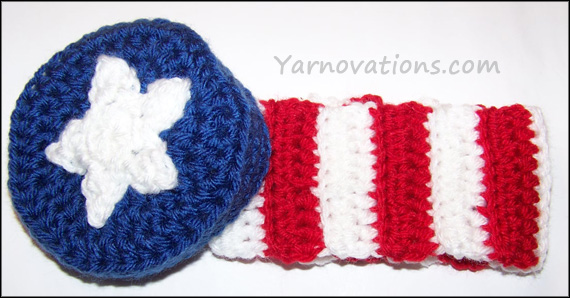 WIDE MOUTH LID COVER INSTRUCTIONS
Colonial Blue
Hook: H
Ch 3
Rnd 1: 8 hdc in 3rd ch from hook. Join with a sl st. (8)
Rnd 2: Ch 1, hdc inc around. (16)
Rnd 3: *hdc, hdc inc* around. (24)
Rnd 4: *2 hdc, hdc inc*around. (32)
Rnd 5: *3 hdc, hdc inc* 7 times. 2 sc, sc inc, sl st. (40)
Rnd 6: Work in back loops only, sc around. (40)
Rnd 7-8: Work in both loops, sc around. (40)
2 Sl st. Finish off, weave in end.
STAR INSTRUCTIONS
White
Hook: H
Ch 2
Rnd 1: 10 hdc in 2nd ch from hook. Join with a sl st. (10)
Rnd 2: In back loops only, sl st into next st. (work next group in the same st as sl st you just worked) * work: ch 2, dc, ch 1, sl st into top of dc, ch 2, sl st. 2 sl sts into next sts of Rnd 1* around.
Finish off leaving a long tail for sewing.
Pin then sew Star to top of Lid.
More Cozies in Store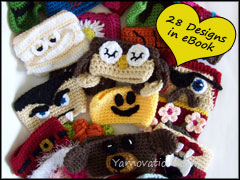 Love this flag cozy? There are more seasonal, holiday and just for fun cozies in the store in our Crochet Cup Cozy eBook. We've created an entire collection with 28 designs one ebook.
Looking for the cup and mug version? They're in the ebook.
Each design in the ebook has instructions to fit Mugs, Cups and Mason Jars. Every design has a delicious recipe or fun craft.
All 3 flags pictured at the beginning of this post are in this ebook! AND the ebook includes 4 new designs – Dracula, Vampire, Mummy and Blue Jeans.

Read more about the set:
Blog: Coffee Cup Cozy Collection
Store: Coffee Cup Cozy Collection