Behind the Scenes: Baby Pink – Shelly Baby Set
The Baby Pink Shelly Baby Set eeked out a win in the Twin Face Off design challenge using Bernat Softee Baby yarn in May 2015. I, Dana, thought I would share a bit about how the design came to be.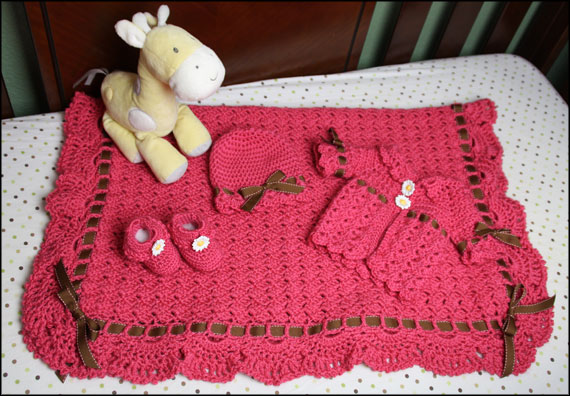 The blanket was the first project I created. I was inspired by swatches I found in the Crochet Stitch Dictionary by Sarah Hazell. From there I created a sweater, hat and booties that incoporporated the elements from the center panel and edging of the blanket.
As you can see in the photo above, I used a brown ribbon as an accent in the set. I adore the contrast in color. Ultimately I swapped the brown for a pink because I couldn't find a button that coordianted without being overpowering. Don't get me wrong, I adore the daisies…but I think they are a bit bright for the set.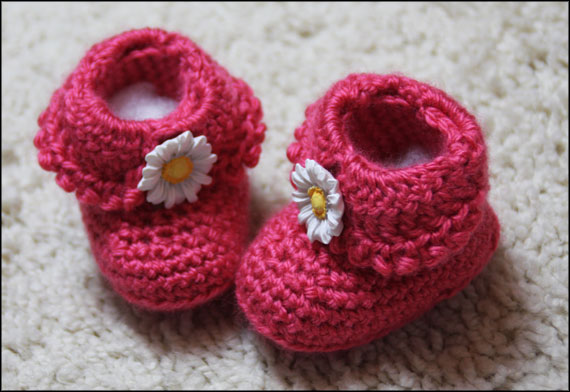 That being said, I absolutely adore how the daisies look with the booties. If the challenge had just been baby booties, I definitely would have kept them. Perhaps I should have looked a little harder for a ribbon to go with the buttons…maybe a white or yellow.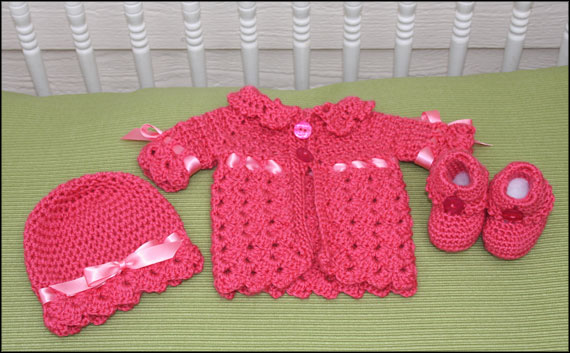 This is the first time I've created a baby sweater, so it was the last thing I designed…and I was nervous about it. Deborah went through a baby sweater craze recently and honestly, I was a little intimidated to make one. She shared her basic pattern with me and I was able to modify it to create a cute little sweater that I'm happy with.
This particular challenge was really fun for me. I don't often make girly items and I found that it was a blast! Deborah was thrilled to make a "boy" set because she's got two little ones at home. So she was very interested in creating projects that she would actually use.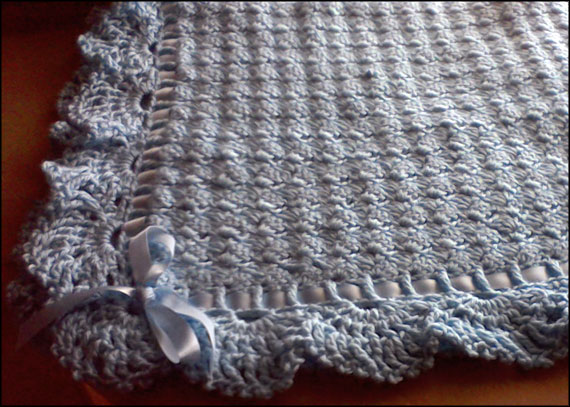 Our mom saw a sneak peek of the pink baby blanket before the challenge went live and she loved it! She wanted to make a blanket for her great grand son and asked for the pattern. So, she was the first pattern tester for the baby blanket. The blanket turned out great and looks adorable in baby blue. Good job, Mom!