Baby Blanket with Crochet Edge Pin Loom Pattern with 36 New Pin Loom Square Patterns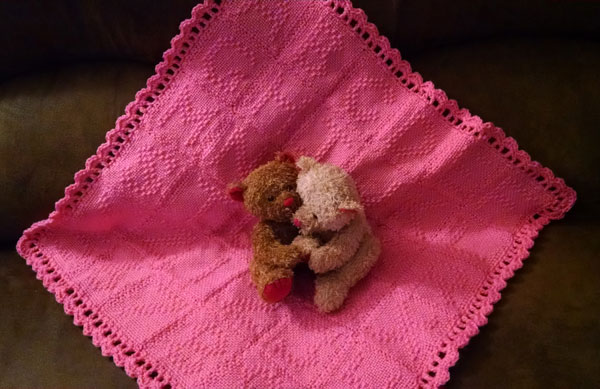 Create your own baby blanket by pin loom weaving! This sweet little baby blanket was made with a 4″ Zoom Loom, 2 skeins of Red Heart Super Saver yarn and a size H crochet hook!
The Zoom Loom allows you to weave on the go (or while watching the kids play on the playground in my case). It creates 4″ squares that can be joined by needle or hook. Then, you can dress it up (if you want) with a bit of crochet edging (crochet is still my first love, so you know I couldn't resist adding that).
This baby blanket pin loom pattern includes:
26 capital letters (A-Z)
10 numbers (0-9)
3 Join Options (2 with needle, 1 with crochet hook – with illustrated photos)
Baby Blanket Instructions (assembly and crochet edging pattern)
Photos on setting up the warp and weave of the Zoom Loom
Photo examples of 1 and 2 color options
The baby blanket pictured measures 25 1/2″ x 25 1/2″…the perfect size for car seat or stroller.
The Baby Blanket and Alphabet Set Pin Loom Pattern is available in the store.