Bridal Shower Gift – Crochet Handcuffs
Bridal showers are a great time to gift practical items for  kitchen and bath to a soon to be wed young couple. It's also a fun time to embarrass them with items a bit more playful like lingerie and toys.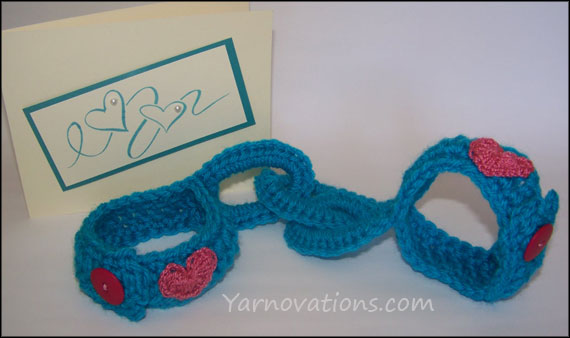 I crocheted the bride-to-be a pair of handcuffs (using a similar color to one in the upcoming wedding) in addition to getting her something from her registry.
I also stamped a card and wrote a suggestive message inside…which I encouraged the bride-to-be to read to out loud to everyone (we can't miss the opportunity to embarrass her a little!):
Dear Bride,
I crocheted you something you can use to make him your LOVE SLAVE.
Enjoy!
PS: They are adjustable in case you want to be the slave to his love.
FREE Crochet Patterns for Handcuff and Hearts
The free crochet patterns for these are found in a couple older blog posts:
Handcuffs (pictured above: Vanna's Choice in Aqua and  J/10/6.00mm hook)
Heart – (pictured above: Bernat Handicrafter Cotton Thread (5) in Rosy Rose and a 3.5 mm steel hook)
Enjoy, you young lovers!