Behind the Scenes: How to Single Crochet Photo Tutorial
I, Dana, have a love / hate relationship with the single crochet. On the one hand, it is the work horse of crochet. On the other hand, it get's used a lot…so much so that it often leaves me uninspired. I especially hate how single crochet looks when crocheted in rows.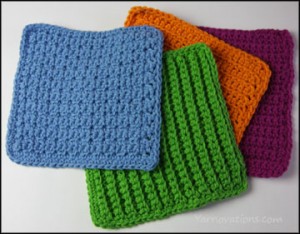 As a crochet designer, I know there are a myriad of textures that can be created with just a single crochet and a chain and I don't know why those textures are used more frequently. So I created a pattern and photo tutorial to showcase just how beautiful single crochet can be.
My other goal was to teach new crocheters and those needing to brush up their skills the basics. Not only that, I want to help them get over the learning curve as quickly as possible. It doesn't seem like there are a lot of patterns on the market for beginners. So this tutorial was designed to teach the core principles that are seen in easy and advanced patterns.
After completing all 7 dishclothes in this pattern, new crocheters will be able to single crochet like pros.
I chose dishcloth patterns for a couple of reasons. 1) Creating square swatches is boring (to me anyway) even though they do a great job of showing us texture. By crocheting dish clothes, not only will newbies learn how to crochet, they can use their hand made items! 2) Dish clothes are small and can be completed quickly. It's nice to have a feeling of accomplishment with each dishcloth completed.
Check out the How to Single Crochet Photo Tutorial.