Behind the Scenes: Bohemian Handbag
The Bohemian Handbag won by a very healthy margin in the Lion Brand sponsored Twins Face Off purse design challenge in April. I, Dana, am thrilled that so many people liked it.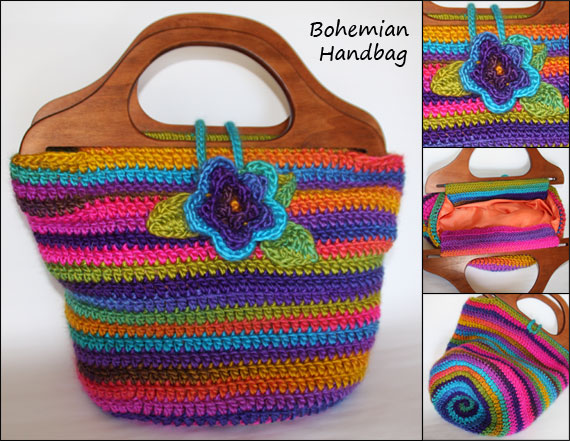 I have a confession to make, this simple handbag was not one of those projects that come to fruition in one sitting. In fact, I talked about it with the ladies in my crochet group, looked at projects online, and visualized a myriad of designs before settling on this basic construction.
There were several types of bags I considered for the challenge.
1st I was contemplating a backpack, something cutesy that a child might wear. I was even calculating how to incorporate a small padded pocket to store a computer tablet.
2nd I decided on a stitch sampler bag with lots of different pieces sewn together almost like a free form project. I even worked up a small swatch with the star stitch (which looked beautiful, by the way)
3rd I began working on a round bag with the spiral that would be on the front and back panel. I envisioned a long shoulder strap and a gusset with a zipper.
Finally, after carefully frogging the previous designs, I settled on a spiral based bag with two skeins of yarn that would chase each other around the bag. I decided to let the color be the main feature of the bag and double crocheted in the round. Once the main shape of the bag was finalized, items like the handle and flower closure quickly took shape.
This entire project makes me chuckle becaues I rarely use a purse. Those rare instances where I do use a purse, it's generally so small that it only fits my phone, wallet and car keys. That being said, this challenge was quite fun. I enjoyed both the project category and the vibrant Landscapes yarn.