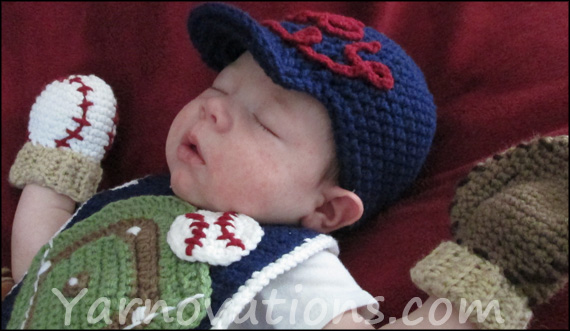 Newborns can "get in the game" with this adorable little baseball crochet hat, mitts and bib outfit! They're never too young to show team spirit. It's perfect for little boys and little girls. All baseball fans are going to want to add this to their child's collection.
Whether you're seeing the game live or going to a party, your little one is sure to steal the show sporting these accessories.
Skill Level: Easy
Crochet Techniques: Crochet in the round, crochet in the front and back loop, front and back post crochet.
Size: Newborn (Make items smaller or larger by changing the hook size.)
Baseball Crochet Hat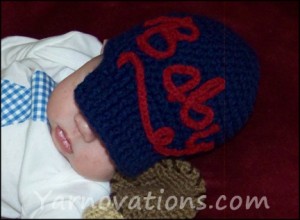 With ears tucked in or untucked, this crochet baseball hat will make your newborn look super cute. Swap out the colors to match your teams colors. We went patriotic with blue and red.
Our cap says "Baby", but you can personalize your cap by stitching your baby's name or team chant.
Measured flat: 7 1/4″ x 5. Add brim which measures 1 3/4 x 5.
Baseball Crochet Mitts
Wrap those little hands in some fun crochet baseball mitts. No game is complete without a baseball and catcher's mitt! With these, your newborn is ready to play ball, too. These mitts fit both right handed and left handed players!
The cuffs are designed to stretch. And, with the elastic sewn inside, they stay snuggly in place no matter how wiggly your newborn is.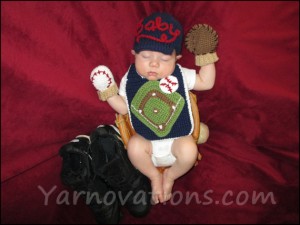 Measured flat: Baseball – 2 3/4″ x 3 1/2″
Measured flat: Catcher's Mitt – 3 1/2″ x 4″
Baseball Diamond Crochet Bib
Your little one can run the bases on this crochet baseball diamond bib. It's a great accessory for meal time or game time.
The baseball diamond is crocheted separately and sewn to the bib (as is the baseball appliqué). The bib is adjustable with a sewn on button and crocheted button holes.
Measures: 6 1/2″ x 3 1/2″
Get your newborn in the game. Order this "Li'l Slugger" Outfit today.