We're happy to announce the newest member to the Yarnovations family, crochet style! Yarnovator (and husband) welcomed the arrival of their baby boy in May 2012. Naturally, no big event like this would be complete without a little bit of crochet.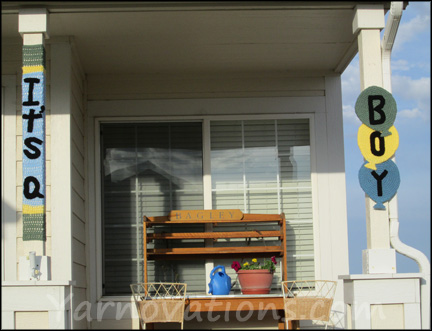 What better way to announce the arrival of a baby or share some big news with your neighborhood than with crocheted pillar cozies! You can custom make cozies to fit any pillar size and announce most any occasion in letters or appliqués.
Utilizing the two pillars in front of her house, Yarnovator used classic colors and large bold letters. These cozies vividly proclaim the arrival of Yarnovator's newborn son. Here's how she did it.
The "It's a" cozy was done in short rows alternating single, half double, and double crochet. The letters were crocheted separately and sewn on.
The "Boy" balloons were crocheted separately in the round using half double crochets. To help the balloons hold their shape, the circles were sewn onto plastic canvas. Like the "It's a" cozy, the letters were crocheted separately and sewn on. Because the balloons do not wrap around the pillar, separate short cozies were crocheted that match the pillar color. The balloons were then sewn to the cozies at the desired height.
All told, this is a fun, simple and informative project.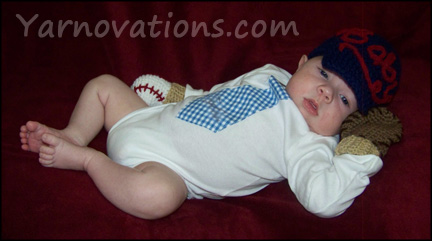 Congratulations, Yarnovator. Welcome, baby!
PS: Newborn Baseball Set coming soon!