Dishcloth+ Series: April's Dress Towel Topper and Dishcloth Crochet Pattern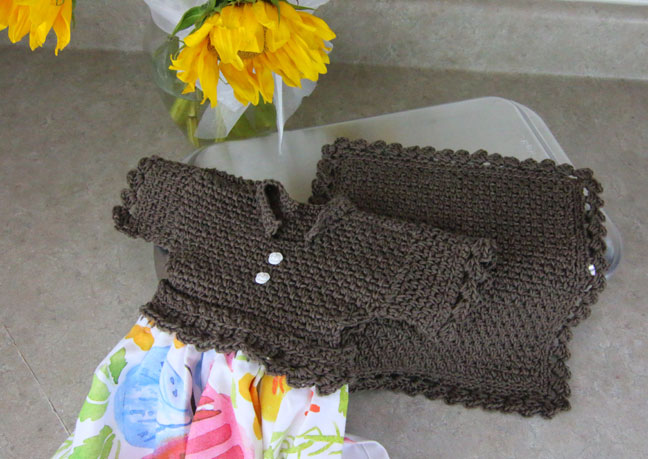 Dress up your kitchen with this beautiful crocheted dress towel topper and coordinating dishcloth. This pattern was created out of love and necessity. I love to crochet, and I hate picking my dishtowels up off the floor. With two toddlers in the home, picking the towel up from the floor was happening way too frequently! My solution, crochet a beautiful accessory. Not only would it be lovely to look at, I wouldn't have to pick the towel up off the floor every time I wanted to dry my hands.
The dishcloth and towel topper work up quickly with a lovely woven stitch (sometimes called the linen stitch). Less dense than a straight single crochet, the woven stitch is a little more flexible and has more drape. The fancy scalloped edge gives it a dash of elegance.
Towel Topper Dressy Design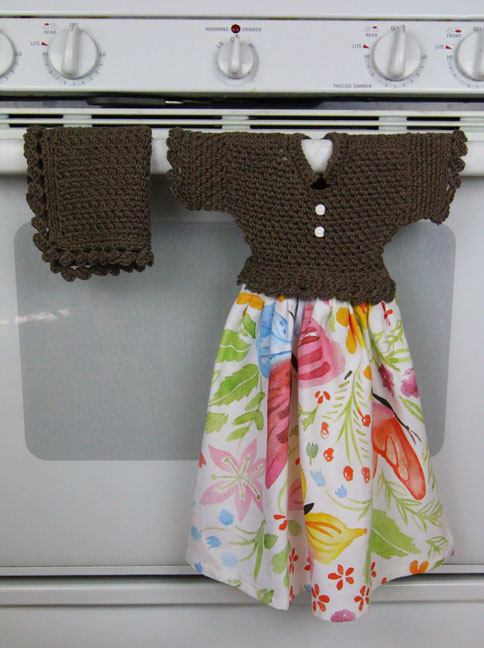 The towel topper does require a bit of hand sewing as the crocheted portion is crocheted on two halves of the towel. The back half is placed over an oven handle or other handle and tucked into the waistband securing it in place. This design requires a fair amount of tugging by little hands to pull it down, making it a dream. (It will need to be buttoned in place for more persistent tuggers like my children!)
Pictured, the dishcloth and kitchen towel are crocheted in Fibra Natura Good Earth distributed by Universal Yarn. This cotton linen blend is perfect for going from sink to washing machine and back again.
Available in the Store

The Dishcloth+ Series: Woven Stitch Dishcloth and Crochet Towel Topper Crochet Pattern is now available in the store.